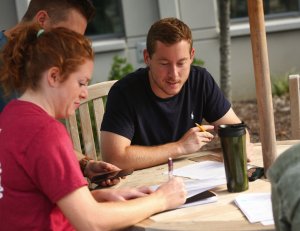 Student Ambassadors represent the School of Nursing among a variety of audiences, including prospective students, alumni and school guests, while demonstrating a high level of School pride and exceptional service at all times.
The School of Nursing encourages students' unique interests in community organizations to foster supportive academic and co-curricular learning experiences, and there are many opportunities to get involved in the DUSON community. Learn more about the DUSON student organizations below that are recognized and supported by the Office of Student Services and the Graduate and Professional Student Council  (GPSC, pronounced "G.P.S.C.") of Duke University. GPSC is the umbrella student organization for Duke's nine graduate and professional schools.
Let's DU Lunch is an innovative pilot project sponsored by the DUSON Student Council and supported by the Dean, the Senior Leadership and Faculty. The concept of the program is simple—to provide an opportunity to students and faculty to informally network and build relationships over lunch.
Duke Parking and Transportation
Housing and Apartment Resources
Consumer Information for Prospective and Current Duke University Students and Employees (HEOA)
Nursing Student Guide to Fitness, Nutrition and Overall Wellness