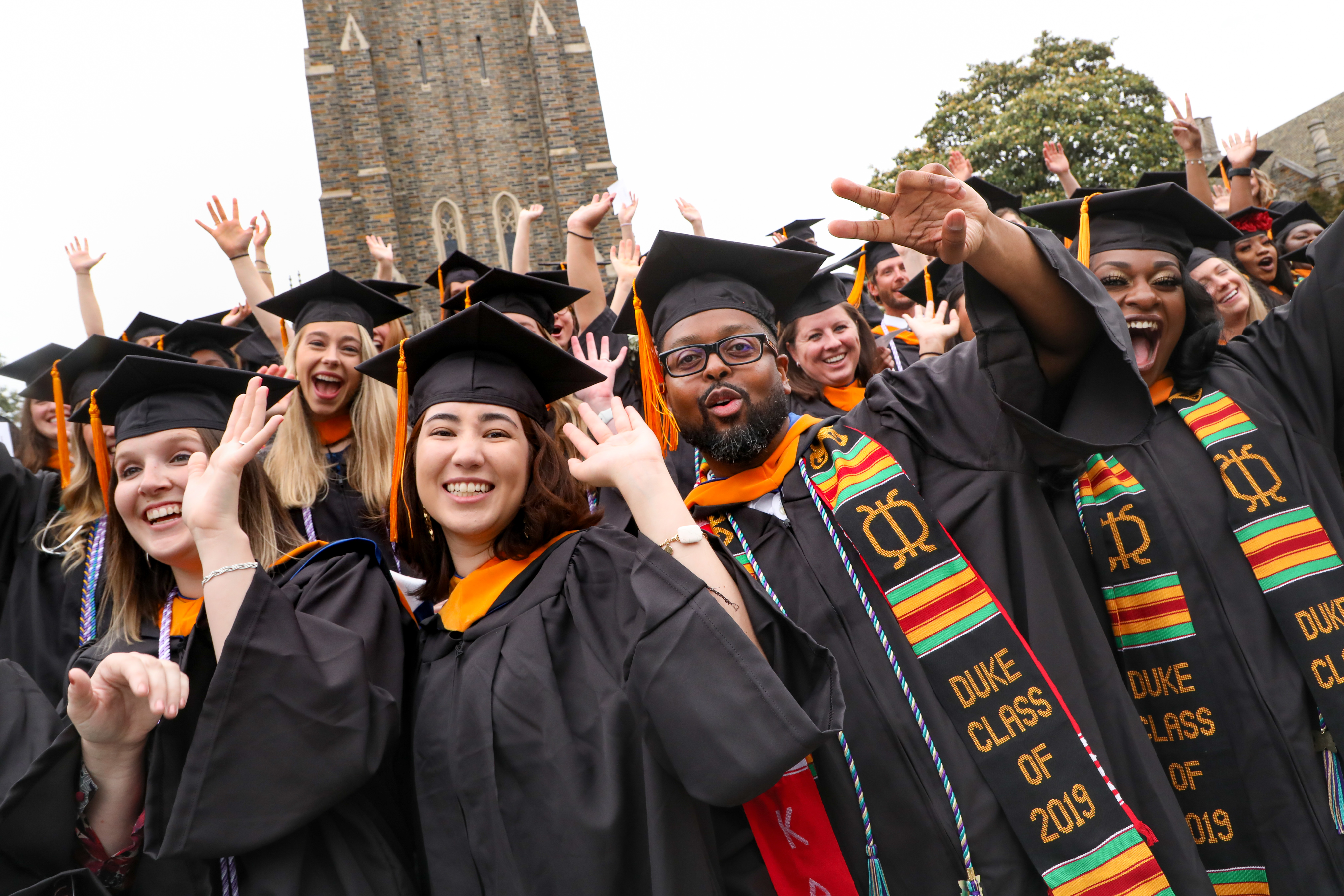 Date: Sunday, May 10, 2020
Event Time: 5:00 p.m.
Location: Duke University Chapel
                   Page Auditorium (overflow seating)OK
Reception: A dessert reception will also be held for graduates and their guests at the School of Nursing from 2 - 4 p.m.
General Program Information
Eligibility to Participate
Prospective May 2020, prospective September 2020 and December 2019 graduates (who did not participate in the December 2019 ceremony) are eligible to participate in May 2020 School of Nursing Hooding and Recognition Ceremony. Additionally, the following step must be taken:
Prospective May 2020 graduates will be required to "apply for graduation" via DukeHub. The Apply for Graduation window closes on March 13, 2020.

Prospective September 2020 graduates must have all academic requirements for the program completed no later than Sunday, August 9, 2020. For DNP students, this includes having defended your proposal, received IRB approval, begun implementation of your project and begun data collection.
Information for Guests
Tickets are required for the School of Nursing Hooding and Recognition Ceremony. Prospective graduates will be notified as to the number of guests they can invite and provided tickets accordingly. All prospective graduates will be emailed the special link to RSVP no later than Monday, March 9.
Apparel
Academic regalia are required for the School of Nursing Hooding and Recognition Ceremony. Graduates can place orders for regalia through Duke University Stores. The deadline to order regalia is Friday, March 13, 2020.
Doctoral Degree Recipients
If you wish to purchase your apparel, please contact Patti Silver in the Duke University Stores. DNP graduates should either:
rent a black gown with apricot bards/hood and tam; or

purchase a Duke Blue PhD gown with black bars only.
The deadline to purchase apparel is Wednesday, February 19, 2020.
Nursing Pins
For graduates who would like to purchase nursing pins, please visit the Jim Coleman Store to place your order. Please order by March 13, 2020 to ensure delivery for the May 2020 ceremony.
Graduate Check-in/Processional Instructions
Details regarding student check-in and processional instructions will be sent in early May.
Photos
We will have two professional photographers on hand to capture all photos. Ordering instructions will be sent out after the ceremony in May 2020.
Guests with Disabilities
It is important for us to know in advance if you or your guest(s) require special accommodations. You will have the opportunity to do so via the RSVP form, or you may contact the DUSON Registrar.
Directions
Driving directions to Duke Chapel (401 Chapel Drive, Durham, NC 27708) can be found here.
Parking
For those who are able to walk from Parking Garage 1 across from the Pearson building (if you attend the dessert reception), feel free to walk to the Chapel for the ceremony. There may be parking spaces available at the Bryan Center parking garage (125 Science Drive) with an overflow to the Chemistry lot. There will also be 15 ADA spaces in the Bryan Center lot (first come, first serve). If you have already notified us that you will have guest(s) needing special accommodations, you will soon receive additional information via email.
For more information, please visit: https://commencement.duke.edu/plan-your-visit/parking-transportation/