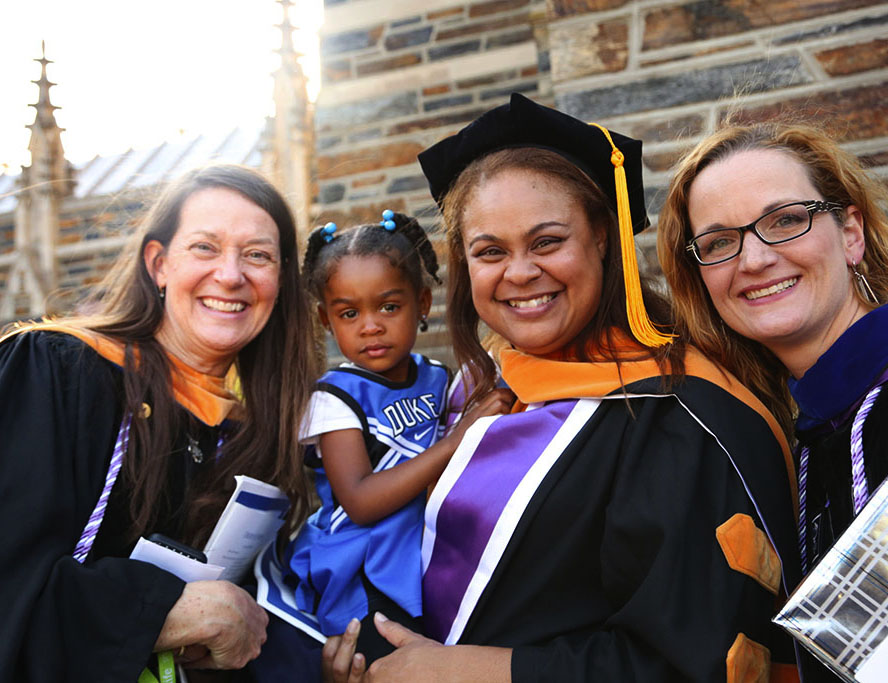 Date: Saturday, December 8, 2018
Event Time: 11:00 a.m.
Location: Duke University Chapel
Reception: Breakfast will be served prior to the Hooding and Recognition Ceremony at the School of Nursing Pearson Building from 8:30 - 10 a.m.
 
Eligibility to Participate
Prospective December 2018, and September 2018 graduates (who did not  participate in the May 2018 ceremony) are eligible to participate in December 2018 School of Nursing Hooding and Recognition Ceremony.
Information for Guests
Tickets ARE required for guest. Tickets are NOT required for graduates. Each graduate will be allowed a maximum of four (4) guest tickets. A live stream viewing will be available online for those who are unable to attend.
Apparel
Academic regalia are required for the School of Nursing Hooding and Recognition Ceremony. Graduates can place orders for regalia through the RSVP survey that has been emailed out to them.
Doctoral Degree Recipients
If you wish to purchase your apparel, please contact Patti Silver at patti.silver@duke.edu in the Duke University Stores. DNP graduates should either:
rent a black gown with apricot bars/hood and tam; or
purchase a Duke Blue PhD gown with black bars only.
Nursing Pins
For graduates who would like to purchase nursing pins, please visit https://www.jimcolemanstore.com/duke/ to place your order. Please order by October 15, 2018 to ensure delivery for the December 2018 ceremony.
Graduate Check-in/Processional Instructions
Details regarding student check-in and processional instructions will be sent in late November 2018.
Photos
We will have two professional photographers on hand to capture all photos. Ordering instructions will be sent out after the ceremony in December 2018.
Guests with Disabilities
It is important for us to know in advance if you or your guest(s) require special accommodations. You will have the opportunity to do so via the RSVP form, or you may contact the DUSON Registrar at dusonregistrar@dm.duke.edu.
Directions
Driving directions to Duke Chapel can be found at https://chapel.duke.edu/contact.
Address:
Duke University Chapel
401 Chapel Drive
Box 90974
Durham, NC 27708
Parking
Parking and drop off information and instructions will be emailed to graduates in November.