Pursue Your Purpose
Nurses are a critical part of our society. Patient centered care requires the expertise of qualified nurses. Now more than ever our profession needs you. As a nurse you can play a key role in overcoming pandemics like COVID-19. You deliver care and help restore life to people with a variety of needs. You are the backbone of our healthcare system. We need your help on the frontlines to change lives.
If you are considering a career in nursing, pursue your purpose today by taking the first step. Receive more information on what programs we offer, class details, and more.
The possibilities are endless at the destination for outstanding talent.
About the Program
The Accelerated Bachelor of Science in Nursing Program (ABSN) is a second degree program for students who have completed an undergraduate degree and the required pre-requisites. This is a full-time, campus-based program that lasts for 16 months.  Our students focus on health wellness and disease prevention, clinical leadership, evidence-based nursing practice and culturally relevant care.  Our faculty practice dynamic teaching-learning strategies, simulations, virtual and standardized patients and more.  Our unrivaled Center for Nursing Discovery is the only accredited health care simulation education facility in North Carolina, and you'll have access to it! Our faculty are committed to preparing students to deliver safe, high-quality nursing care to patients and their families.
As a student, you'll complete 58 credit hours of study and receive nearly 800 hours of clinical experience.  Our students get the unparalleled advantage of clinical experiences at multiple sites in the Duke University Health System, top-notch healthcare systems in the Raleigh-Durham, NC, area and around the world. 
ABSN students may earn up to nine credits towards a Master's degree!  Register for electives to prepare you for evidence-based practice, statistics and study design, population health in a global society and more!
Upon graduation, you'll be eligible for licensure as a registered nurse and entry into professional nursing practice.
The accelerated baccalaureate degree in nursing at the Duke University School of Nursing is accredited by the Commission on Collegiate Nursing Education (http://www.aacn.nche.edu/ccne-accreditation).
ABSN Clinical Immersion Experiences
As an ABSN student, some of your clinical hours may be fulfilled locally or globally.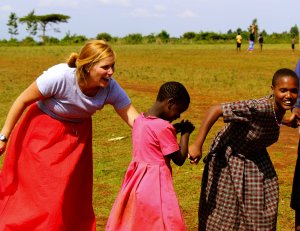 Students who choose local clinical placements will work with culturally rich and diverse populations in Durham County, NC, including Latinos, refugees and immigrants, as well as an array of vulnerable groups, such as those living in poverty, homeless persons and the elderly. Current local community and public health partners include: Durham Housing Authority, Families Moving Forward. Urban Ministries, Church World Service, The Immaculate Conception Church, Partners for Youth Opportunities, Learning Together.  Local clinical immersion groups fulfill their hours on a weekly basis throughout the semester.
Students who go abroad will travel to one of our clinical sites for a two-week immersion experience during the break between second and third semester. These rich learning environments provide students with invaluable insights into diverse health care systems, community-based initiatives and treatment protocols in different cultural settings. GCIE activities typically include: community assessment, clinical observations, hands-on experiences in the local health care centers or polyclinics, health promotion teaching, home visits, environmental health visits with local health officers and cultural enrichment activities. Visit global academic and clinical sites to learn more.
[block:views=featurettes-block_8]
Why Choose Duke?
An ABSN degree from Duke University School of Nursing offers:
Innovative curriculum emphasizing wellness and health promotion as well as evidence-based nursing practice across the lifespan

State-of-the-art facilities and technology for clinical teaching, including high-fidelity simulators, standardized patients, interactive modules, case studies and lectures/videos in digital formats

Personalized advising from faculty

Clinical learning with a small faculty-to-student ratio (usually 1:6)

Clinical experiences at Duke University Health System and other respected health systems across the Triangle

International clinical immersion experiences through the Office of Global and Community Health Initiatives

Wide ranging benefits that come with learning at a nationally ranked university and an internationally recognized teaching medical facility

Improved opportunity for post-graduation employment that reaches far beyond North Carolina

Early consideration for admittance of ABSN graduates with a GPA of 3.0 or higher into the Master of Science in Nursing Program - learn about the ABSN-MSN Pathway.