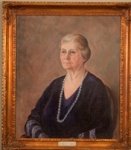 Bessie Baker
Duke University School Of Nursing's First Dean, 1931-1938 
Bessie Baker, BS, RN, was a graduate of the Johns Hopkins School of Nursing and Columbia University. She served as the assistant director of Hopkins's nursing school, as director of nursing at Charles T. Miller Hospital in St. Paul, Minnesota, and also as assistant professor of nursing at the University of Minnesota prior to her appointment at Duke. She accepted the position at Duke in 1930 and served as the School of Nursing's first dean until 1938. Dr. Davison later reflected that Miss Baker's dynamic personality and forceful character helped ensure the success of the School from its earliest days. She made plans for the School, recruited its first students and served as a liaison between Duke Hospital and Duke University.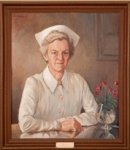 Margaret I. Pinkerton, MA, BS, RN 
Dean and Director of Nursing Service, 1939-1946 
After earning her BS in nursing education from Columbia University in 1933, Margaret Pinkerton studied at the University of Chicago, where she completed her master's degree. Her clinical and academic work histories qualified her for her new position at Duke. She had held a nursing superintendent position at Barnes Hospital in St. Louis and prior to that had served as an instructor in nursing arts at the Washington University School of Nursing, also in St. Louis. The June 1941 edition of Alumnae Notes, published by the Duke Nurses Alumnae Association, described her arrival thus: "Miss Margaret I. Pinkerton came to us...to be the dean of our School of Nursing in October 1939. Our School was in a sort of chaotic state. Naturally, her task was a tremendous one, one which required ability; and she had that. Then we had to have faith in that ability—but faith in the ability of any leader is of slight service unless it be united with faith in her justice. And in her justice, not once has she failed us."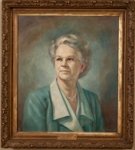 Florence K. Wilson, MA, RN 
Dean and Director of Nursing Service, 1946-1954 
Florence K. Wilson earned her bachelor's degree from the University of Michigan, her master's degree from Western Reserve University and her nursing education credentials from the City Hospital School of Nursing in New York City. She served as a general staff nurse at the famed Henry Street Nursing Services in New York. Thereafter, she served as medical supervisor and instructor at Lakeside Hospital at Western Reserve University in Cleveland, Ohio, and at the School of Nursing at the University of Nebraska. From 1938 to 1943, Miss Wilson was director of the School of Nursing and the Nursing Service at Syracuse Memorial Hospital in Syracuse, New York, and later an associate professor of nursing education. Miss Wilson retired from her position as dean on November 6, 1954. Upon her death on May 6, 1960, the alumnae resolved to begin a scholarship in her name, writing: "We loved her humaneness, her charming wit, her ability to give wise counsel, her drive for work, her fairness, her courage to speak what she believed and her steadfast faith in the undeveloped potential of the Duke University School of Nursing."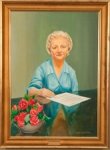 Ann M. Jacobansky, EdM, RN 
Dean, 1955-1967; Interim Dean, 1970-1971 
A native of McKeesport, Pennsylvania, Ann M. Jacobansky earned her nursing diploma at the Shadyside Hospital School of Nursing in Pittsburgh, Pennsylvania, then went on to earn her BS and EdM degrees from the University of Pittsburgh. She served overseas in the Army Nurse Corps from 1943 to 1945 and for five years as clinical instructor and educational director at the Presbyterian Hospital School of Nursing at Pittsburgh. After the end of her tenure as dean on August 31, 1967, Miss Jacobansky remained on the faculty of the School of Nursing; she served as acting dean from February 1, 1970, through June 30, 1971.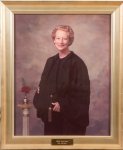 Myrtle Irene Brown, PhD, RN, FAAN 
Dean and Director of Patient Care, 1967-1970
Myrtle Irene Brown served Duke as professor of nursing, director of patient care and dean of the School of Nursing from 1967 to 1970 and went on to became a professor of nursing at the University of South Carolina. The first of the School's deans to be doctorally prepared, Dr. Brown conducted research for the American Nurses' Foundation and the Bureau of State Services, Department of Health, Education and Welfare. She authored "Changing Maternity Care Patterns in Migrant Puerto Ricans" (1961), "Nursing Care of the Aged: An Annotated Bibliography for Nurses" (1967), "Working with Older People: A Guide to Practice" (1969/1971) and contributed to Nursing Research Conference (1970). The Alpha Xi Chapter of Sigma Theta Tau International Nursing Honor Society (Columbia, South Carolina) created the Myrtle Irene Brown Award for Excellence in Nursing Research in her honor.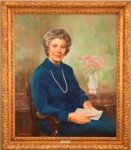 Ruby L. Wilson, EdD'69, RN, FAAN 
Dean, 1971-1984 
Dr. Ruby L. Wilson began her career as a staff nurse, head nurse and night clinical supervisor at Allegheny General Hospital in Pittsburgh, Pennsylvania, where she received a bachelor's diploma in nursing. She went on to obtain a BSN in nursing education from the University of Pittsburgh, an MSN from Case Western Reserve University and a doctor of education degree from Duke University. In 1955, she was appointed to Duke University School of Nursing as an instructor in advanced medical-surgical nursing in the new BSN program. Dr. Wilson was appointed the first clinical nurse specialist at Duke University Hospital in 1963, providing care for dialysis and kidney-transplant patients. She helped develop an advanced medical-surgical nursing course and the first-ever master's program in clinical nursing, which became a national model for graduate nursing specialization. In 1969, she left Duke to become a visiting professor and consultant in nursing with the Rockefeller Foundation at Ramathibodi, Mahidol University in Bangkok, Thailand. While there, she assisted the nursing and medical departments in developing educational and patient care programs at the new research medical center. In 1971, she returned to Duke and was appointed dean of the School of Nursing, a position she maintained until 1984. "Dr. Wilson is a pioneer, and her leadership has consistently resulted in improvements—in clinical care, education, professional societies and policy," said Catherine Gilliss, PhD, BSN'71, RN, FAAN, former dean of the School of Nursing. "The impact of her quiet leadership through networking and aiding others to act cannot be overestimated." In 2006, Dr. Wilson was honored with the Duke University Medal for Distinguished Meritorious Service, the first woman from the medical center to receive the award. The School of Nursing named the Ruby L. Wilson Patient Assessment Lab and established the Ruby L. Wilson Professorship in her honor. She was also awarded the inaugural Duke University School of Nursing Lifetime Achievement Award and was named a Living Legend by the American Academy of Nursing. The School also established the Ruby L. Wilson Award for Clinical Excellence that is given to an ABSN graduate from each cohort.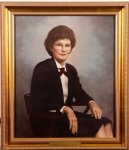 Rachel Booth, PhD, RN
Assistant Vice President for Health Affairs and Dean, 1984-1987 
Dr. Rachel Booth earned her diploma from the Greenville General Hospital School of Nursing in South Carolina. She then attended the University of Maryland, where she earned her BSN and MSN and her PhD in administration of higher education. Prior to coming to Duke, Dr. Booth served as the associate dean for undergraduate studies at the University of Maryland, where she initiated one of the first adult nurse practitioner programs in the nation. Dr. Booth left Duke in 1987 to lead the University of Alabama at Birmingham School of Nursing. While there, she created Alabama's first PhD in nursing program in 1999 and served as the president of the American Association of Colleges of Nursing and director for the World Health Organization's Collaborating Center for International Nursing. Dr. Booth served on numerous editorial boards and as a consultant to universities and foreign countries on leadership, graduate and undergraduate education, program evaluation and advanced nursing practice. For her contributions to nursing, she was inducted into the Alabama Nursing Hall of Fame in 2003. For her service to the university and scholarly distinction, the University of Alabama at Birmingham awarded her the President's Medal in 2005.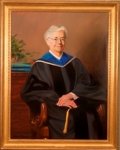 Dorothy Brundage, PhD, RN, FAAN 
Interim Dean, 1987-1991 
Born and raised in Cleveland, Ohio, Dr. Dorothy Brundage received her BSN in 1953 from the Frances Payne Bolton School of Nursing at Case Western Reserve University. For several years thereafter, Dr. Brundage worked as a nurse before earning her MSN in 1968 from Emory University in Atlanta, Georgia. Dr. Brundage arrived at Duke as an instructor in 1968 and was quickly promoted to assistant professor in 1970 and later to associate professor in 1979. Dr. Brundage's serious approach to nursing and scholarly demeanor while working on her doctoral degree impressed many of the students and faculty members. In 1980, Dr. Brundage received her PhD from Walden University, an accomplishment that was still uncommon at that time for many faculty members in the discipline of nursing. Dr. Brundage was one of a very few faculty members from the School of Nursing who achieved the more senior rank of associate professor. But like many of her colleagues at the School, Dr. Brundage was an expert clinician. Her special areas of expertise were in both obstetrical and medical-surgical nursing. She remained engaged clinically while teaching at the School of Nursing and regularly consulted with clinical staff, making rounds on the medical intensive care unit to stay current in her clinical knowledge. Within her specialty of renal nursing, she published several books and research papers and encouraged students to do the same. From 1984 to 1985, when the School of Nursing's BSN program was closed and the MSN program was under reorganization, Dr. Brundage returned to clinical care at Duke Hospital. After the end of her role as interim dean, Dr. Brundage remained at the School of Nursing as a faculty member and was actively engaged in implementing new programs and developing curricula for the new nurse practitioner programs.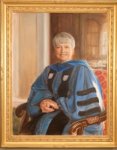 Mary T. Champagne, PhD, RN, FAAN 
Dean, 1991-2004 
Dr. Mary Champagne served as dean of the School of Nursing from 1991 to 2004. Under her leadership, the School created a number of innovative graduate programs, established an accelerated bachelor's degree program and expanded its interdisciplinary research activities. "Her ability to rally alumni, friends, staff and faculty testifies to her permanent, admirable legacy to the University," said former Duke University president Nannerl Keohane in 2004. After receiving her BSN from San Jose State College, Dr. Champagne volunteered to serve in the Peace Corps and traveled to Afghanistan, where she taught, co-directed and later directed the Lashkar Gah School of Nursing. Following her return to the United States, Dr. Champagne earned her MSN and PhD from the University of Texas at Austin. She has taught at the College of Nursing at the University of Nebraska and then at the School of Nursing at the University of North Carolina at Chapel Hill, where she became the chair of the department of adult and geriatric health. During Dr. Champagne's tenure as dean, she implemented programs to improve health care in rural North Carolina through the education of family nurse practitioners for medically underserved areas, dramatically expanded the School's MSN program, reinstated and revamped the School's bachelor of science in nursing program and worked with faculty to develop new research projects and establish a PhD in nursing program. Dr. Champagne has extensive experience in research, and her funded work has focused on acute confusion in elderly patients and using research to improve the practice of nursing. She has co-authored six books and more than 60 research articles. Dr. Champagne currently serves as professor in the Duke schools of nursing and medicine, holds the Laurel Chadwick Professorship and is a senior fellow of Duke's Center for the Study of Aging and Human Development.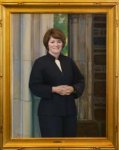 Catherine L. Gilliss, PhD, RN, FAAN 
Dean, 2004 – 2014, and Vice Chancellor for Nursing Affairs
Dr. Catherine L. Gilliss, a 1971 graduate of Duke's undergraduate nursing program, was the first alumna in the School of Nursing's history to return to her alma mater to hold the position of dean. In addition to her role as dean, Dr. Gilliss also served as Vice Chancellor for Nursing Affairs at Duke University. During the course of her deanship, Dr. Gilliss presided over the implementation of the PhD and doctor of nursing practice degree programs, the construction of a 59,000-square-foot state-of-the-art building and a 45,000 square-foot addition, the development of the School's strategic plan, the expansion of global health initiatives and the strengthening of the partnership between nursing education and clinical expertise for the improvement of both fields of study. Under her leadership, Duke became one of the top universities for nursing in the nation; in 2011, U.S. News & World Report ranked the School seventh among graduate nursing programs, and the School became one of the top 10 nursing schools engaged in research funded by the National Institutes of Health. "Dean Gilliss was an exceptional person with a strong commitment to excellence and an equally strong vision for the future of nursing education and research, both for Duke and for our nation," said Peter Lange, former provost of Duke University. Dr. Gilliss earned her MSN from the Catholic University of America and her PhD from the University of California, San Francisco (UCSF), where she completed her postdoctoral studies. She joined the faculty as an assistant professor and had earned the rank of professor and chair of the department of Family Health Care before leaving UCSF in 1998. From 1998 until 2004, she was professor and dean at the Yale University School of Nursing. Prepared as a psychiatric mental health clinical nurse specialist and as an adult nurse practitioner, Dr. Gilliss led programs preparing primary care nurse practitioners and worked toward the integration of key psychosocial principles into these curricula, notably the care of the family as a unit. Her scientific work focused on families and chronic disease. Her commitment to the development of pipeline programs that increased diversity in the nursing profession was unwavering. From 2009 to 2011, she was president of the American Academy of Nursing. In July 2011, Dr. Gilliss was appointed to the Helene Fuld Health Trust Professorship at Duke University School of Nursing.
Marion E. Broome, PhD, RN, FAAN 
Dean, 2014 – 2021, and Vice Chancellor for Nursing Affairs 
Before joining Duke in August 2014, Dr. Broome was Dean of the Indiana University School of Nursing and Associate Vice-President for Nursing at Indiana University Health for 10 years. She was awarded the rank of Distinguished Professor.
Widely regarded as an expert, scholar, and leader in pediatric nursing research and practice, Dr. Broome was funded externally by the American Cancer Society, the National Institutes of Health (NIH), and various foundations for two decades. Her research developed and tested interventions designed to assist children in coping with acute and chronic pain, informed consent and assent for children in research, research misconduct in clinical trials, and, most recently, ethical dilemmas in publishing and leadership of nurse executives. Dr. Broome's research has been published in more than 129 papers in 58 refereed nursing, medicine and interdisciplinary journals. She also has published seven books and 21 chapters.