July 1, 2021
Image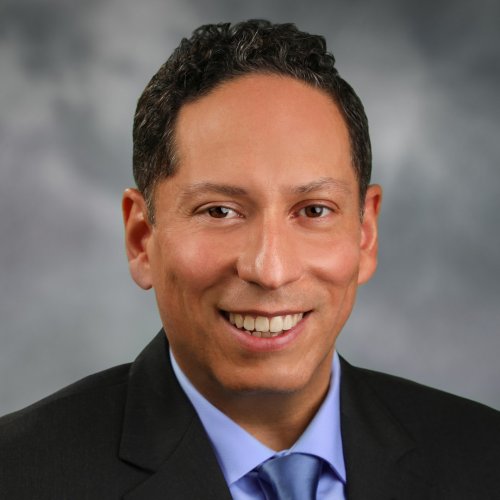 As of July 1, Vincent Guilamo-Ramos, PhD, MPH, LCSW, RN, ANP-BC, PMHNP-BC, AAHIVS, FAAN, has officially begun his role as dean of the Duke University School of Nursing and the vice chancellor for nursing affairs for Duke University.
Dr. Guilamo-Ramos leads as the School's 12th dean and second alumnus to serve in the position. He earned his MSN from the Adult-Gerontology Nurse Practitioner – Primary Care Program with a HIV specialty certificate.
"As dean, I look forward to building on the long tradition of excellence in clinical training at the Duke School of Nursing and to working with faculty, students, alumni and stakeholders to further position our school and profession as influential agents for elimination of chronic health inequities — in the United States and abroad," he said. "To this end, it is a priority to advance the School's leadership in the development of nurse-led models of health care that address the social determinants of health and improve care in communities affected by health disparities. It is also a key objective to further develop the infrastructure for research, dissemination and impact on health care systems, delivery models and quality. In addition, I particularly look forward to joining in the ongoing conversations and initiatives being set in motion by our faculty, staff and students to make the School more diverse and inclusive at all levels."
Dr. Guilamo-Ramos is a national leader in the field of adolescent and young adult sexual health, and, for more than 20 years, his federally funded research has focused on the role of families in improving adolescent and young adult sexual health outcomes, with a special focus on preventing HIV/AIDS and sexually transmitted infections and improving care outcomes for youth receiving HIV prevention and treatment services. His clinical work as a nurse practitioner with certification as an HIV specialist and psychiatric-mental health nurse focuses on primary care of adolescents and young adults at elevated risk of or experiencing negative sexual health outcomes. He specializes in the delivery of developmentally tailored clinical HIV prevention and treatment services, screening and treatment of sexually transmitted infections, and medication-assisted treatment for substance use disorder.
Prior to his appointment at the Duke School of Nursing, Dr. Guilamo-Ramos has been a tenured professor at both New York University (NYU) and Columbia University. Most recently, he held faculty appointments in nursing, public health and social work at NYU. He will continue to lead the Center for Latino Adolescent and Family Health (CLAFH), which he founded and which is relocating from NYU to the Duke School of Nursing. While at NYU, Dr. Guilamo-Ramos also served as pilot projects and mentoring core director of a NIDA-funded P30 center and as associate vice provost for mentoring and outreach programs, a role in which he developed a university-wide mentoring infrastructure for the advancement of early career faculty, with particular emphasis on underrepresented faculty.
Dr. Guilamo-Ramos currently serves as a member of the Presidential Advisory Council on HIV/AIDS (PACHA), the HHS Panel on Antiretroviral Guidelines for Adults and Adolescents and the CDC/HRSA Advisory Committee on HIV, Viral Hepatitis and STD Prevention and Treatment, and he recently served on the NASEM Committee on Prevention and Control of STIs in the U.S. He has been inducted into the American Academy of Nursing and the American Academy of Social Work and Social Welfare and received the Hispanic Health Leadership Award from the National Hispanic Medical Association.
Dr. Guilamo-Ramos holds a Ph.D. from the University at Albany School of Social Welfare, State University of New York, a MSN degree from Duke and a Post-Masters Advanced Certificate as a Psychiatric-Mental Health Nurse Practitioner from the Adelphi University College of Nursing and Public Health. In addition, he holds a Master of Social Work degree from the NYU Silver School of Social Work, a master's degree in management from the NYU Robert F. Wagner Graduate School of Public Service and a Master of Public Health degree from NYU School of Global Public Health.
Dr. Guilamo-Ramos succeeds Marion E. Broome, PhD, RN, FAAN, Ruby Wilson Professor of Nursing, as dean of the Duke School of Nursing. He serves as the School's first male and first Latino dean and as Duke University's highest ranking Latino officer.
Welcoming Dean Vincent Guilamo-Ramos