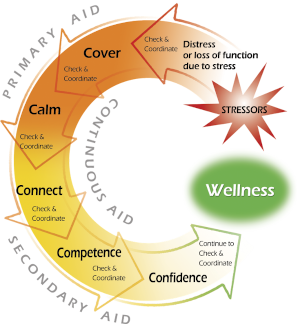 Widespread organizational and societal changes resulting from the COVID-19 pandemic have made stress management knowledge and skills more important than ever. Using the Stress First Aid framework and model, you can learn how to identify stress reactions in yourself and others, reduce the risk for stress injury, and promote coping and resilience among individuals and groups in social, occupational, and academic settings.
The overarching aim of Stress First Aid (SFA) is to identify and mitigate the negative impacts of stress before they impair health and well-being. SFA was initially developed under the auspices of the US military for implementation by the United States Navy and Marine Corps. It has since been successfully adapted for use by health care professionals and first responders across the country. The SFA model is based on five evidence-informed factors that help people recover from stress and adversity. These include the need for safety, calm, connection, sense of competence or self-efficacy, and hope.
What is SFA?
Stress First Aid is a peer support training designed to provide participants with a tool kit on how to perform a timely safety assessment and response when they suspect a co-worker or peer needs support. SFA trains peers to recognize and communicate about suspected psychological injuries with individuals with the goals of preserving lives, preventing further harm, and promoting recovery. View workbook.
How to Sign Up for SFA Training
These training sessions will require a 4-hour time commitment from 9 a.m.-Noon and to watch a 1-hour video prior to attending the training. In-person attendance, where applicable, will take place at the Duke University School of Nursing (DUSON) or North Carolina Central University (NCCU) in Durham, North Carolina.
Friday, March 17, 2023-in person NCCU
Friday, March 24, 2023-in person DUSON
Friday, April 28, 2023-Virtual synchronous 
Friday, June 9, 2023-in person DUSON
Please use the QR code or registration link below to access SFA Training registration.
SFA Booster Sessions: If you have already taken the 4-hour Stress First Aid Training and you'd like an opportunity to APPLY and practice the SFA model, these sessions are for you!
We offer a virtual 1-hour Booster session each month. These sessions are optional and no continuing education credit will be provided. You are welcome to attend any one of them – or more than one. The case studies have been developed with nursing students in mind, but should be applicable to all health care professionals.

During these sessions, we will reinforce the SFA principles: (Stress Continuum Model, four sources of orange-zone stress, and SFA model) and then practice using case exemplars from varied settings.
SFA Booster Session Dates for 2023:
Once a month – All sessions are virtual
Thurs-April 6 from 10:30 -11:30 am
Tues-May 2 from noon-1:00 pm
Thurs-June 8 from 10:45-11:35 am
Tues-July 11 from noon-1:00 pm
Thurs-Aug 3 from 10:45 to 11:35 am
Tues-Sept 5 from noon-1:00 pm
Thurs-Oct 5 from 10:45 to 11:35 am
Tues-Nov 7 from noon-1:00 pm
Thurs-Dec 7 from 10:45 to 11:35 am
Please use the QR code or registration link below to access Booster Session registration and see upcoming dates.
---
HRSA Funding Statement
This project is supported by the Health Resources and Services Administration (HRSA) of the U.S. Department of Health and Human Services (HHS) as part of an award totaling $990,848 with 0 percentage financed with non-governmental sources. The contents are those of the author(s) and do not necessarily represent the official views of, nor an endorsement, by HRSA, HHS, or the U.S. Government. For more information, please visit HRSA.gov. U3NHP45396‐01‐00