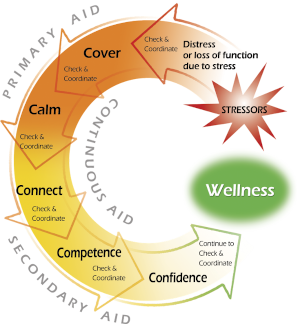 Widespread organizational and societal changes resulting from the COVID-19 pandemic have made stress management knowledge and skills more important than ever. Using the Stress First Aid framework and model, you can learn how to identify stress reactions in yourself and others, reduce the risk for stress injury, and promote coping and resilience among individuals and groups in social, occupational, and academic settings.
The overarching aim of Stress First Aid (SFA) is to identify and mitigate the negative impacts of stress before they impair health and well-being. SFA was initially developed under the auspices of the US military for implementation by the United States Navy and Marine Corps. It has since been successfully adapted for use by health care professionals and first responders across the country. The SFA model is based on five evidence-informed factors that help people recover from stress and adversity. These include the need for safety, calm, connection, sense of competence or self-efficacy, and hope.
What is SFA?
Stress First Aid is a peer support training designed to provide participants with a tool kit on how to perform a timely safety assessment and response when they suspect a co-worker or peer needs support. SFA trains peers to recognize and communicate about suspected psychological injuries with individuals with the goals of preserving lives, preventing further harm, and promoting recovery. View workbook.
How to Sign Up for SFA Training
If you are interested in participating in a 4-hour Stress First Aid training, and there are no upcoming opportunities listed here, please submit your interest and join the waitlist.
---
HRSA Funding Statement
This project is supported by the Health Resources and Services Administration (HRSA) of the U.S. Department of Health and Human Services (HHS) as part of an award totaling $990,848 with 0 percentage financed with non-governmental sources. The contents are those of the author(s) and do not necessarily represent the official views of, nor an endorsement, by HRSA, HHS, or the U.S. Government. For more information, please visit HRSA.gov. U3NHP45396‐01‐00