Malinda Teague, DNP, RN, CPNP-AC/PC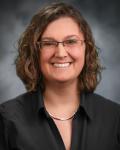 Malinda Teague, DNP, RN, CPNP-AC/PC
Malinda Teague, DNP, RN, CPNP-AC/PC joined Duke University School of Nursing (DUSON) on December 1, 2019 as Assistant Professor, lead faculty of the Pediatric Nurse Practitioner Primary Care program in the MSN program, and as a member of the Healthcare of Women, Children and Families Division.
Dr. Teague received a BS in anthropology with a minor in chemistry from Vanderbilt University and an MS in Nursing from the MGH Institute of Health Professions in 2002. She earned her DNP from Duke University School of Nursing where her DNP project focused on implementing a standardized evaluation of pediatric sleep when assessing for attention deficit. She also holds dual certification as a primary and an acute care pediatric nurse practitioner.
Prior to joining the faculty at DUSON, Dr. Teague was a clinical instructor for both the ABSN and MSN programs here, teaching in the Pediatric Primary Care Management courses. She has worked across the country in pediatric rheumatology, pediatric emergency medicine and urgent care, and pediatric primary care settings in both clinical and leadership roles, and was previously an assistant professor, coordinator of the Pediatric Nurse Practitioner Program, and director of Advanced Practice programs at the MGH Institute of Health Professions until 2016 when she moved to North Carolina.
Dr. Teague practices clinically as a pediatric nurse practitioner at Duke Primary Care Pediatrics in Holly Springs, North Carolina, and is also the practice medical director for both Wake Country Pediatric Services, helping to develop the pediatric service line for Duke Primary Care. She also serves as the legislative chair for the North Carolina Chapter of the National Association for Pediatric Nurse Practitioners (NAPNAP) and was a 2019 NAPNAP Advocacy Scholar awardee.