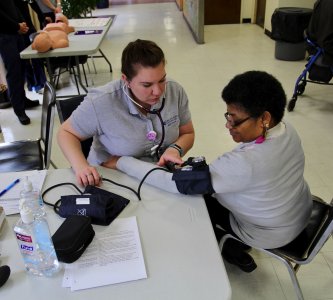 Each of us belongs to a variety of communities and collaborating with our communities to advance health is a goal that we are passionate about. As part of our legacy, we make a positive impact in every community where there are DUSON students or graduates.
We are committed to care for the health and lives of thousands of people today through the work of our alumni, faculty and students, also influencing the future of health care and how we serve those around us.
The DUSON Community Health Improvement Partnership Program (D-CHIPP) creates and manages partnerships throughout the Durham community and improve the health of underserved populations. D-CHIPP's special focus is to work directly with community organizations, and through their strategic plans determine how to best help them reach their goals and assist with community-based health initiatives. Learn more about D-CHIPP (link).
Our partnership with TROSA, a multi-year residential substance abuse treatment program located in Durham, N.C., allows DUSON to provide medical care to its more than 500 residents. The crucial relationship provides health care access to people who are medically underserved, as well as allows TROSA to continue its mission of a holistic recovery process.
Our faculty are also committed in time and service to providing health care to underserved patients through community grants for homeless patients to research that focuses on providing resources to improve the health and well-being of young adult Latino immigrants, sickle cell patients, and more.
The Communities of Practice is an innovative approach to creating academic practice partnerships with health care providers in our communities. Partnerships are developed to address the need for advancing the education of advanced practice nursing students while enhancing preceptor knowledge which is necessary to improve health outcomes for patients with multiple chronic conditions in rural and underserved health care settings.
The School of Nursing is also home to The Duke Elder Family/Caregiver Training (DEFT) Center.  This unique center combines resources within Duke University School of Nursing, the Duke University Health System and the community for synergistic assistance to support caregivers who assist and care for elders at home following a hospital or rehabilitation discharge. The DEFT Center also gives DUSON graduate nursing students the opportunity to provide caregiving training which exposes them to difficulties that families often face when caring for a loved one at home.