At the Duke University School of Nursing, or DUSON as we call it, you will be joining a family of more than 6,000 alumni and thousands of special friends and supporters.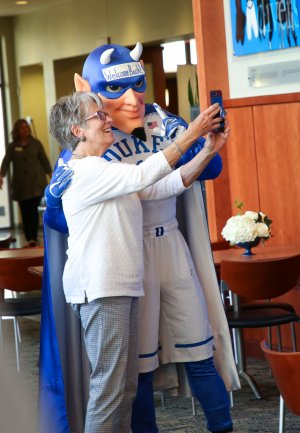 Our family stretches across all 50 states and into more than 19 countries around the world. Our alumni are a powerful network of distinguished nurses who are trailblazers in nursing education, science, clinical practice and the humanities.
The support and involvement of our alumni are just two of the things that sets us a part as one of the top-ranked graduate nursing school in the country. We invite you to explore our website and discover what it means to be a Duke-educated nurse.
DUSON Alumni are shaping the present and future of nursing. They are making a difference in clinical practice by leading efforts in developing health information technology to improve quality and patient safety, and by creating the first cancer survivorship program at Duke that offers an innovative group care model for breast cancer survivors.
Our Alumni are also impacting lives around the world, by implementing an antiviral therapy care as part of an Ebola research effort in West Africa and working with African-American women with children with HIV by helping them lead better, more productive lives.
We invite you to read about many of the interesting and exciting things that are happening a the Duke School of Nursing in our Duke Nursing Magazine, that features news and information about many of the amazing things our alumni, faculty, staff and students are accomplishing.
A highlight of every year is in the Spring, when alumni return to campus for our Reunion Weekend. The weekend's activities are a way to renew old friendships and create new ones. As part of this special event, we recognize the impact on the School by honoring special friends for their significant contributions to the School through a very unique Alumni, Faculty and Friends Recognition Program.
As part of our ongoing support of our students, hundreds of alumni and friends have joined the Bessie Baker Society, named for the Duke University School of Nursing's first dean. The support from the society's members today continues to ensure the School's current and future success.
We welcome your interest in the Duke University School of Nursing. If you are an alumnus, please keep in touch! Please visit the Alumni section to learn how you can get involved.