At the Duke University School of Nursing, we provide and promote unparalleled clinical expertise. Through partnerships with Duke Health, our students and faculty are actively engaged in clinical settings across the lifespan of care. As part of the Duke University Health Care System, students have the ability to learn from providers in the #1 ranked hospital in North Carolina and the #1 ranked hospital in the Raleigh-Durham region for the 17th consecutive year, according to U.S. News & World Report.
For Our Students
As a student, you'll find faculty and educators who are experts in their field. From a lead practitioner in the Duke Cardiology clinic to a women's health and breast cancer thought leader and champion to a pediatric mental health expert, you'll only learn from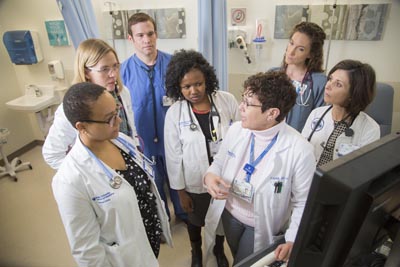 the best clinical practitioners in health care.
Students are trained in our world-class Center for Nursing Discovery, home to the state-of-the-art simulation center that provides an interactive, safe and supportive environment for students to learn. The Center for Nursing Discovery provides an environment that prepares students with hands-on experiences and promotes problem-solving, critical thinking and clinical reasoning/judgement. As a student, you'll work alongside students enrolled in all of our academic programs and you'll be able to confidently deliver compassionate care in a diverse and complex health care setting. The School is actively engaged in multiple research communities that promote connectivity and partnership at DUSON, Duke Health and other schools and centers at Duke and beyond. These collaborative relationships are essential to address the most pressing health care questions from multiple perspectives.
Our partnerships leverage experience and knowledge to provide infrastructure to promote the professional development of nurses throughout the career continuum. Current partnerships across campus include:
Duke Inter-Professional Education Clinic
The Duke Health Inter-Professional Education (IPE) Clinic offers a unique learning and patient care experience. Staffed by nursing, medical, physician assistant and physical therapy program faculty members and students, the clinic provides urgent care services to patients from the emergency room who present with less acute systems. The interdisciplinary clinic offers long-term, robust hands-on experience in a real-world setting for students.
Duke Health Innovation Lab
Across the world, patients and health care providers are enjoying technological advances that are transforming health care. However, before these items make it to the marketplace, they have to be developed and tested. Duke University School of Nursing (DUSON) is home to a place for this – the new Duke Health Innovation Lab, an interdisciplinary center for developing and testing pioneering innovations in clinical practice, technology and patient care delivery.
Duke Advancement of Nursing, Center of Excellence (DANCE)
The Duke Advancement of Nursing, Center of Excellence is a unique collaboration between nurses in the Duke University School of Nursing (DUSON) and the Duke University Health System (DUHS). Our collaboration provides an infrastructure to match the clinical expertise and needs of DUHS with the research expertise and theoretical insight of DUSON. Through DANCE, our nurses are dedicated to personal professional advancement and lifelong learning for all, in order to advance the health of our communities and demonstrate our commitment to excellence in patient-centered care.
Duke Elder Family/Caregiver Training (DEFT) Center
The Duke Elder Family/Caregiver Training Center combines resources within Duke University School of Nursing, the Duke University Health System and the community for synergistic assistance to support caregivers who assist and care for elders at home following a hospital or rehabilitation discharge. The DEFT Center also gives DUSON graduate nursing students the opportunity to provide caregiving training which exposes them to difficulties that families often face when caring for a loved one at home.