A diverse community of scholars and clinicians, Duke University School of Nursing is educating the next generation of transformational leaders in nursing. We advance nursing science in issues of global importance and foster the scholarly practice of nursing. We were ranked second in the nation for the 2023 Best Graduate Nursing Schools rankings by U.S. News & World Report. Our Doctor of Nursing Practice program, many of our Master's programs and our Accelerated Bachelor's program rank at the top!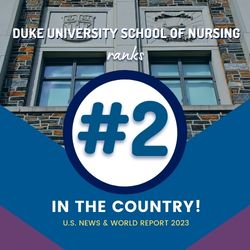 At Duke, you'll find a learning climate that thrives on creativity, a genuine respect for others and an opportunity to realize your potential contributions to healthcare. Students receive strong advising and mentoring and with many of our programs distance-based and online, faculty use creative approaches to deliver top-quality education so students can learn without leaving their jobs and lives. We offer students master's, PhD and doctor of nursing practice degrees as well as an accelerated bachelor of science in nursing degree to students who have previously graduated from college. In addition, we host continuing education opportunities throughout the year.
DUSON, as it's called by many, is committed to providing the best educational environment for the development of nursing leaders. We are an academic center of excellence, heavily involved in the advancement of nursing science, promotion of clinical scholars and the education of clinical leaders, advanced practitioners and researchers.  DUSON is also home to many niche centers and institutes that work to improve the future of health care. From global health to simulation education to educational excellence, DUSON never fails to continue our legacy of providing excellence in education. 
We are designed to reflect the pressing needs in the field of health care for highly-skilled professionals. Whether you are a recent college graduate who wants to enter the field of nursing or you're already a professional and seeking to expand your knowledge in a specialized area, we have a program that will fit your needs:
Accelerated Bachelor of Science in Nursing (ABSN)
Complete a Bachelor of Science in Nursing (BSN) in 16 months and be on your way to a career in health care.
Master of Science in Nursing (MSN)
Focus on 21st century health-care needs through specialization and in-depth study. Duke University School of Nursing offers more than 10 specialty areas within its MSN program.
Doctor of Nursing Practice (DNP)
Advance as a nurse leader with the skills to improve systems of care and patient outcomes.
PhD
Build a career as a nurse-scientist in research or academic settings.
Post-Doctoral Fellowship
Develop rigorous theoretical and methodological approaches for studying the separate and combined trajectories of chronic illnesses and care systems.
Achievements
In January 2017, our Center for Nursing Discovery received a five-year accreditation by the Society for Simulation in Healthcare (SSH) and the Council for Accreditation of Healthcare Simulation Programs in the area of Teaching/Education. We are the only nursing school in North Carolina and one of three nursing schools in the United States to have received this accreditation.
DUSON is the only school in the nation to currently have three Centers of Excellence in Nursing Education designations from the National League for Nursing (NLN). DUSON was recognized at the NLN's 2017 Education Summit in the categories "Advancing the Science of Nursing Education" (2017-2021), and "Promoting the Pedagogical Expertise of Faculty" (renewed 2017-2022). In 2015, DUSON was one of only two schools to receive two consecutive designations adding the category "Creating Environments that Enhance Student Learning and Professional Development (2015-2021). This was renewed until 2024."
Duke University School of Nursing is proud to hold several high rankings awarded by national publications and organizations.
2023 U.S. News & World Report rankings:
In addition, for the 2022 U.S. News & World Report Best Online Nursing School rankings, DUSON ranked #5 and #2 as the Best Online Nursing School for Veterans. We were also identified as the Best Online Nursing School for the following nursing majors:
#1 Family Nurse Practitioner Program
#1 Nursing Administration/Leadership Program
#1 Nursing Education Program