At the Duke University School of Nursing (DUSON), we are dedicated to leading and accelerating nursing science and its translation through research focused in clinical innovation, population health and chronic illness, precision health and methods and analytics. DUSON researchers are leaders in their fields and are actively training future nurses in the development and translation of knowledge to improve the health of individuals, families and communities. For 2020, we saw tremendous growth in our National Institutes of Health-Funded (NIH) research performance. We achieved double-digit growth in terms of both total projects receiving funding and in the amounts awarded with $7.28 million in total NIH-funded grants, and 18 total projects awarded. We also ranked #8 in NIH F31 awards, and #8 in total NIH-research dollars awarded.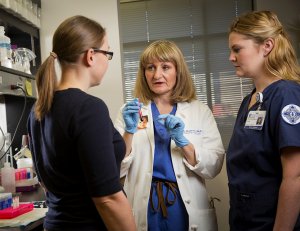 Through engagement of diverse faculty, staff and student populations, fresh ideas and perspectives will continue to emerge to shape innovative and relevant research questions. Immersive student research experiences are designed to encourage critical thinking and inventive problem solving. New learning environments provide the catalyst for exchange and interaction and ultimately help to shape the next generation of nurse-scientists.
Our faculty are researchers, educators and clinicians who are developing innovations in care delivery based on evidence of what works best for patients. These innovations promote health, facilitate treatment effectiveness, improve quality of care and improve cost effectiveness. We advance clinical approaches using ideas, processes, products, procedures or interventions and health system changes to benefit the health of individuals, groups and populations. For instance, type 2 diabetes is a serious problem in the United States and self-management is critical to control the disease. An interdisciplinary team of faculty are integrating mobile technologies to identify strategies that help patients and health care professionals use patient-generated data to better self-manage and overcome challenges with diabetes.
Increasing health outcomes of a group of individuals, including families or communities and reducing health disparities within the group. Faculty are establishing a framework to guide the development of educational tools for parents that provide care to children with illness-related distress, unplanned health care service use and therapy-related toxicities.
Through our Center for Nursing Research, we provide concierge assistance to faculty and students conducting research focused on four areas:
Data Science

Health Innovation

Population Health

Precision Health
Learn more about our Center for Nursing Research and all of our research activities.